=== Over 720 students from 81 countries are already learning with us how to present in English with confidence ===
Join Lucie, Lenka and Abbey as they go through each and every step in the process of creating and delivering great presentations in English. Unlike talking-head video courses you may have seen elsewhere, this program is fresh, cinematic and accessible even for non-native speakers.

Presentations are difficult for most people. And having to present in a second language is doubly difficult.
Together, we'll go through all aspects of…

Planning
Structuring
Writing
Rehearsing
Preparing
And delivering
…great presentations in English.
Covering things like:
Presentation goals
Great openings
Impactful conclusions
Reading vs. Learning
Visual aids
Body language
Tips for clarity in English
… and so much more.
All our videos are presented in a fun way and come with subtitles!
Kdo vás kurzem provede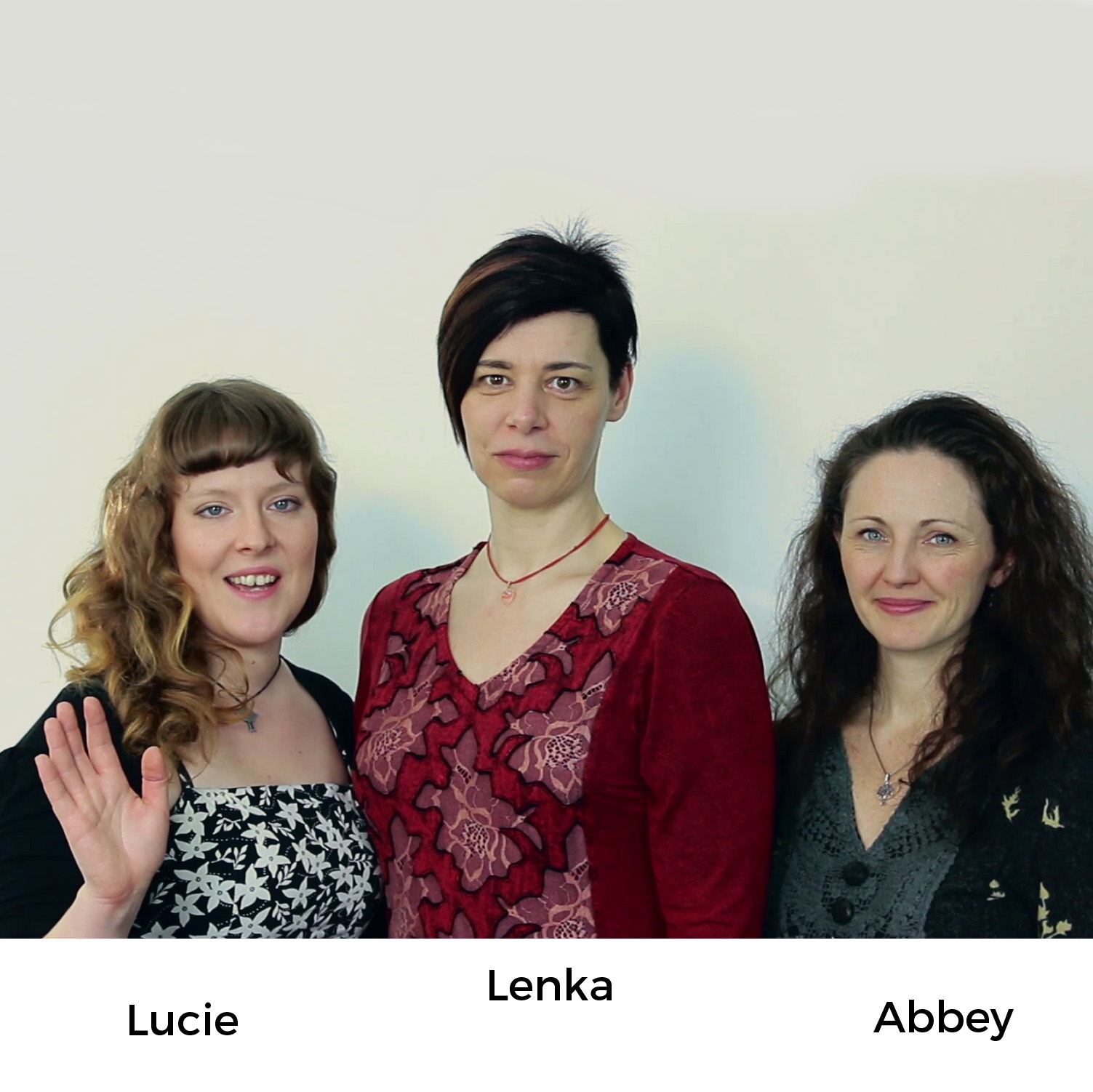 We are Trypod - Lenka, Abbey and Lucie, three friends and colleagues who, despite their different backgrounds, have one common goal - to help non-native speakers learn how to present in English.
Lenka Dvořáková is a consultant and public speaking coach and trainer with background in academia (where she met Lucie) and screenwriting (where she met Abbey). She certainly knows how to make speeches powerful and engaging, as her several awards from international public speaking contests can prove.

Abbey Rice is a professional actress whom you may have seen in several international productions and who stars on the stage of Prague Shakespeare Company. She's also an author and storyteller - an unbeatable combination if you want to learn the art of performing on a stage.

Lucie Diblíková is a scientist and a science communicator: she made it to the Czech finals of FameLab, the international competition in science communications. She's got a great eye for graphic design, too, and is our expert on presentation design.
Plán kurzu
Section 1: Welcome to the Course
Dostupné za dní
dní poté, co se přihlásíte
Section 2: So you're doing a presentation
Dostupné za dní
dní poté, co se přihlásíte
Section 3: Writing your presentation - the art of the opening
Dostupné za dní
dní poté, co se přihlásíte
Často kladené otázky
Kdy kurz začíná a kdy končí?
Kurz začíná právě teď a končí, až ho dokončíte! Všechny materiály máte k dispozici online a můžete postupovat tempem, jaké vám vyhovuje. Jen vy sami rozhodujete o tom, kdy začít a kdy skončit.
Jak dlouho budu mít ke kurzu přístup?
Co takhle... napořád? Poté, co se stanete studenty, máte neomezený přístup tak dlouho, jak jen budete potřebovat - a navíc ze všech přístrojů a platforem.
Co když mi kurz nebude vyhovovat?
Záleží mi na tom, abyste byli spokojení, takže pokud vám kurz z jakéhokoliv důvodu vyhovovat nebude, kontaktujte mě během 30 dní od nákupu a celé kurzovné vám vrátím.